Audioteplice.cz is an educational project which currently includes 33 objects in Teplice (in the town centre, in Šanov and in Trnovany) which are definitely worth seeing. It is designed for visitors to the town, spa guests and also native Teplice inhabitants. Interesting facts are recorded in MP3 format and the best way to listen to them is at the sites of the individual objects. How to do it:
1 / get the map of the audio path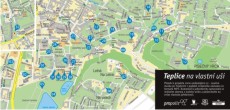 You can obtain the colour map, which shows the indicated sites of the various individual objects and also comments in Czech, free of charge from the Regional Library at Lípová Street 13. The Library is open from Monday to Friday from 10 a.m. to 6 p.m. The maps are not currently available in the information centre.
If you cannot visit the library, you can simply download a black and white version of the map in PDF format for free. The map is convenient for printing at your home printer. At the moment there is availaible only czech or german version, english one will come soon.
2 / download the audio tracks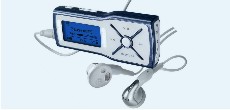 Recordings are not yet availaible in english but we are working on it. Meanwhile you can at least print the english version of texts.
Please follow to the list of objects.
3 / news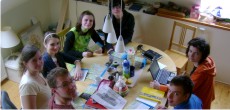 If you have walked this educational path with our texts , you can help us with the development of this project by filling in our form where you can evaluate it. You can also send any comments to the team of authors.
If you are interested in the project history, its financing, who is behind it and further details about Audioteplice.cz, read more in the section 'about the project'. In the event that someone would like to "copy" the project and reproduce it in their town, do not hesitate to contact us.